My host and friend Rohan Yeggina commented, "There is absolutely nothing to see and do in AP" and I had little choice but to believe him. The Eicher road atlas which I am referring to in this ride puts out places of interest in yellow highlight. There were none south of Hyderabad. So I took the best option. Get out of the state as soon as possible. I couldn't go to Bangalore. That was on the way back. Next best thing – Chennai.
There was just one hitch. Chennai was 800 kilometers away with no appealing places in between. Vijaywada was too close to Hyd while Nellore was too close to Chennai. I have never done anything more than 500 kilometers in a day before. This is like a challenge to my butt. Can it stay awake for such a long time? Will riding in the night after such a long ride make the fatigue win over? Will I hit something due to lack of concentration? I wasn't actually thinking any of this but its nice to feel ominous.
After a rather late night sleep (it was 2 am, I think) while Rohan was away at office slogging his ass, I woke up at the alarm time of 4 am. And then promptly slept. Woke up again at 4.30 (was it?) when Rohan came back. And slept again.
Second coming was at 7 am. This time, however, the enormity of the situation climbed on my head. So I woke up, brushed and bathed and loaded my stuff. In about 35 minutes time, I was off into the maze that is early morning Hyderabad. ABout 40 minutes of searching and asking and getting lost later, I was on the highway to Vijaywada. Thankfully, the road was great. I could rip and rip as much as I pleased. There was a non-unimportant amount of traffic on the road, primarily trucks, but not enough to cause any slowdown in pace. I rode and rode. I was doing over 100 almost all the time and didn't feel anything. Maybe it was the early morning air. Maybe it was the servicing done last night. It was one of the most pleasurable rides.
Vijaywada was a vibrant busy city with a lot of traffic from all over. Its a very important junction for cargo traffic coming from north's mineral areas, west's industrial areas and south's industrial / petro areas. It joins some of the most important highways and hence the mayhem. It took me about 40 minutes to find my way out of town. It was about 1 pm and Chennai was 440 kilometers away.
I wasn't even thinking of the distance left to be travelled. I was worried about how hot it was and how inconvenient it is to remove the jacket for a drinks break. I chose to sweat it out. I was regularly riding for about an hour and a half at full capacity (read: highest possible speed without ending up with a heap of metal) and then taking 10 – 15 minutes break. By the time it was 4 pm, I was about 200 kilometers from Chennai. Dusk was approaching. Lake Pulicat appeared out of nowhere to give welcome respite from an already pleasing scenery around.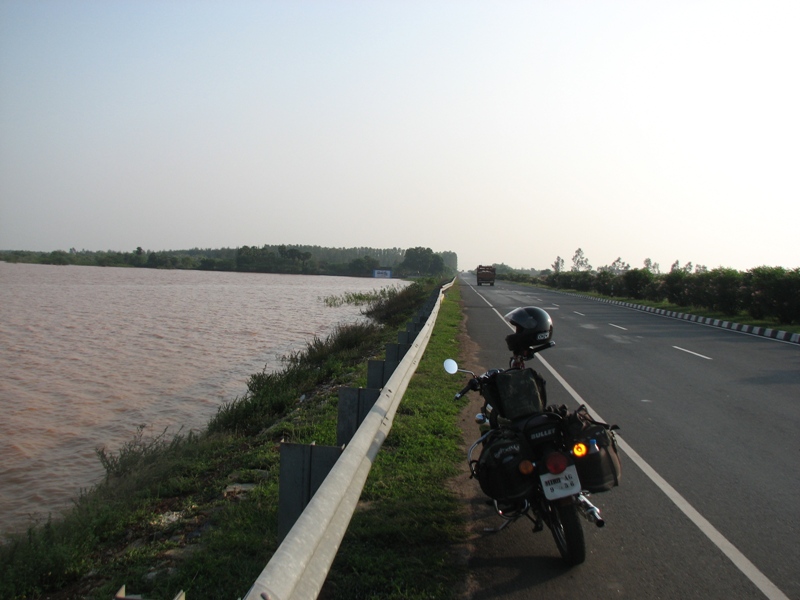 I rolled into Chennai at around 7.30 pm. Exactly 12 hours after I had started. It was a heady feeling. But nothing spectacular, to be honest. An agonising one hour search for a cheap hotel ensued. I am still paying 850 bucks for the night (among the highest room rates I have paid anywhere). Its an amazing sleep which engulfs me. Very very satisfying.