So what if the journey back home was a nightmare I saw with open eyes. So what if the stink in me did not go away for a week. So what if I ended up getting scammed by a God-man even after I did everything to help him. So what if Tip-in Point was fogged out. It was one hell of a ride!
Having gotten rid of every excuse holding me back in the city against my wishes, I headed out due north-east from Delhi the last long weekend. Not everyone was comfortable in heading north-east but then how the hell does that matter anyway. With morning start, I was smelling the fresh country air by the time most people woke up for their morning coffee. Oh, how badly I would come to regret that assumption. We passed by the daylight-nightmare Meerut in a breeze and soon were on narrow, two lane country roads surrounded by sugarcane fields.
For the first time in months, I felt at home.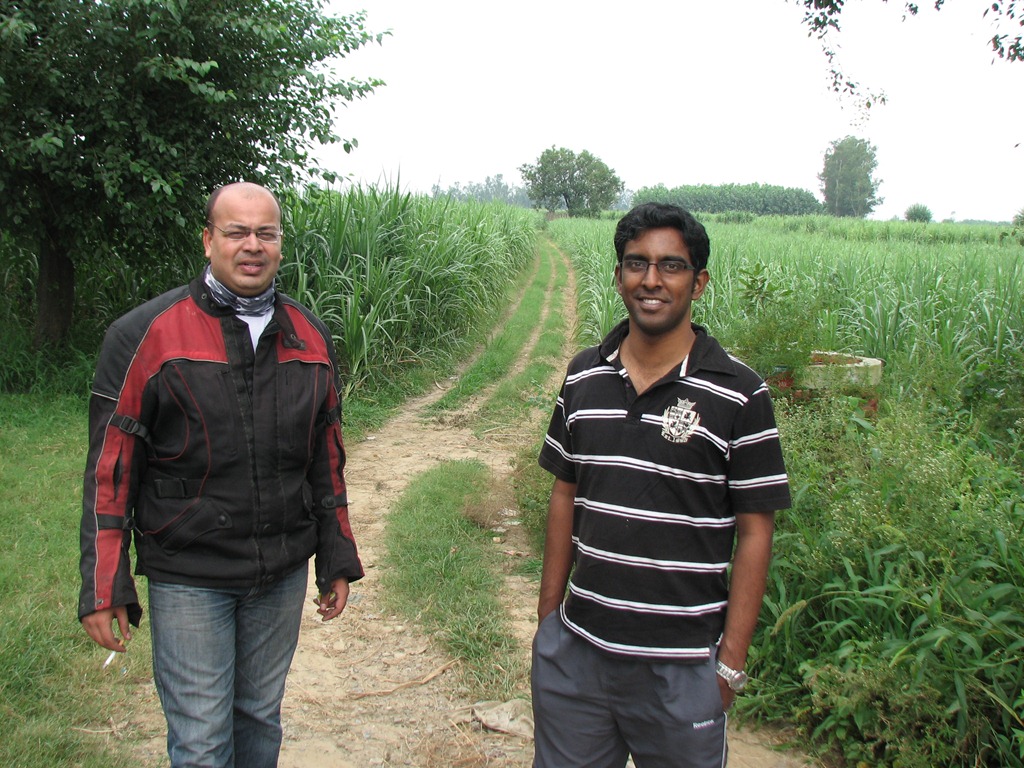 As the climb to the hills of Lansdowne began, the heat became unbearable. And then we lost a tyre. After spending over an hour trying to find a replacement tyre, we were about to choke ourselves due to the heat. Even the good natured ribbing of the Kotdwar locals did not help much to assuage the feeling.
I made a mad dash to Lansdowne but stopped abruptly midway.
There it was! The river. Nice, cool, clean and inviting. I didn't spare a thought. We were down there in a jiffy. For the next 2 hours, everything was forgotten and forgiven. Rivers are like that. They soothe you. Ask anyone who has taken a dip. I think that's why so many people like to take a dive in the Ganga. It is religious in a completely non-religious sort of way.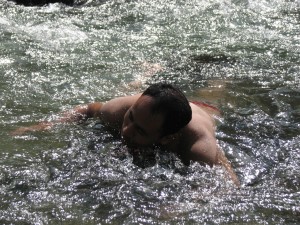 Soon we entered into a paradise that I, for all my bragging, had remained hidden from view. And with a great effect. Delhi'ites give Lansdowne a miss because it is accessible by a narrow, two lane country road. Because there aren't enough hotels there. Because the place shuts down at 10. And best of all because it is an army area, creating a nuisance is highly looked down upon. Bliss!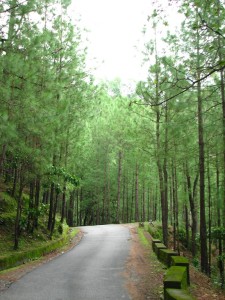 Lansdowne is a dreamy little hilltop town surrounded by army barracks. Which means the place is quiet, clean and organized. None of the incessant honking. No hundreds of tourist jostling for cheap brought-from-Delhi stuff while their kids are bawling all around. Just peaceful bliss. Ok, granted it was a long weekend and the place was seeing tourists about three times the normal capacity. We ended up getting the bedroom of someone's house with a shared bathroom which wouldn't lock from inside for Rs.1,500 for the night. We weren't complaining. The night went by in a long chat with long lost friends that we ran into in this sleepy paradise.
The sun was in full view by the time we left the next day. We were going to Pauri. The holy city. FML.
En-route I saw this young looking sadhu asking for a lift to Pauri. Magnanimous that I am, I readily offered to take him. I figured this was a good chance to strike up a conversation and get a glimpse into a world I never understood. And it was a good one.
Bhagat Deepak (he insisted to starting every sentence with Bhagat, a synonym for Shiva or name of his Guru it seems) was all of 19 years old and was born in Haryana. He was born out of a prayer that his parents offered at the feet od his guru offering to give them their first born if they have more than one child. And so, at the ripe age of 2, Deepak was given away in the service of the Lord. He has vowed celibacy, constant chanting of His name and dedicating his life to His service. But he is a sadhu with a difference. The boyish urges in him were obviously not dead and so he travelled. Quite a bit! He had been to the North East, Himachal, Kerala, Kashmir, Nepal, Bengal and a whole host of other places. Chanting the name of Shiva everywhere, he has come back enlightened. I don't know can anyone be enlightened without having travelled far and wide.
So, 5 kms ahead of Pauri, Bhagat Deepak asks me stop albeit for a rest. Which was fine. But then out came the kamandaland the small tiffin box containing his prized possessions, the do-mukhi rudraksh from Nepal. In no time was a prayer offered for my protection and a commitment made on my behalf to the Lord at Badrinath for a donation of 21 metres of cloth and 5 kgs ghee. Much like the detractors of the Anna Movement, the only question I was asked was, "Dukhi to nahin hai?".
And there I was, on a lovely overcast afternoon in the Lord's town, giving 300 bucks for offering a lift to a God's disciple. That's just how life is!
Pauri is largish town, an anomaly in the mammoth Himalayan ranges propagated by man. Shabby and filth covered, Pauri was the polar opposite of Lansdowne. Hill towns like these fill me with sadness because I can stand atop a hill and see exactly what this town could look like.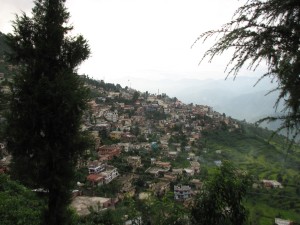 The next day was borrowed straight from the books of the God of Pain, if there is one. It was raining since morning. The roads were fogged out, broken down, land-slided out. And that was the easy section!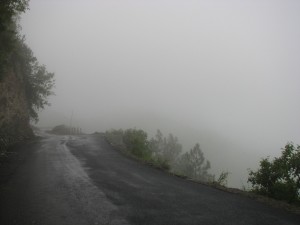 By the time we reached Rishikesh, we thought most of our troubles were over. Oh how we dreamed! The next 200+ kms were a non-stop traffic jam through rain, mud, slush, constant honking of Delhi bound holiday returning traffic, impatient small time political leaders using their bodyguards to snake through the bumper-to-bumper pile up and then some more mud and slush. My hands, legs and head reeled under the never ending barrage of these inputs. My fingers were sore from holding the clutch. My chain was too loose and had cut deep into the rear sprocket. I couldn't change gears properly and my bike (24 months later) got stuck in slush one more time.
By the time Delhi came near, the rain stopped it was over 7 hours since we left Rishikesh. Actually, I came nearer. My two friends in a car were over 2 hours behind me. Trudging through the final segment of the jam on the Delhi – Meerut Highway, I promised myself not to use a long weekend for a bike trip. Ever!
It was 10.30 when I entered my house and my body was quite literally about to crumble. But then humour has its way. The first question my brother asks me as I enter the house is, "It didn't rain a single drop. Where did you get drenched?". Too tired to answer, I slumped in my soft bed.