Whenever one's faith in life and all that it contains begins to waver, we reach out to the one that really matters to us. We escape life as we know it and take shelter in the inviting, safe bosom of their saviour. And suddenly we are able to breathe.
Believers have their Gods. I have my motorcycle and the open road.
I was about to begin a new chapter in life. It seemed apt to close the last one with a communion with my God – the open road. So I packed up and trundled into Kumaon, the lush green hills and jungles of Uttarakhand. And it was good!
The morning rush from Delhi was somewhat lessened due to the fog everywhere on the Hapur Road. Good thing too as Delhi-ites normally tend to get on the highway with a death wish. My previous ride on this road was one hell of a painful one and I could not have been happier that there were only a handful of vehicles on the road. I was riding after a long time, a very long time and the extended period of riding was slowly taking a toll on me. But the peace and exhilaration was far more overpowering. It felt good to be on the road by myself. Solo riding is my escape route from all the craziness in this weird world.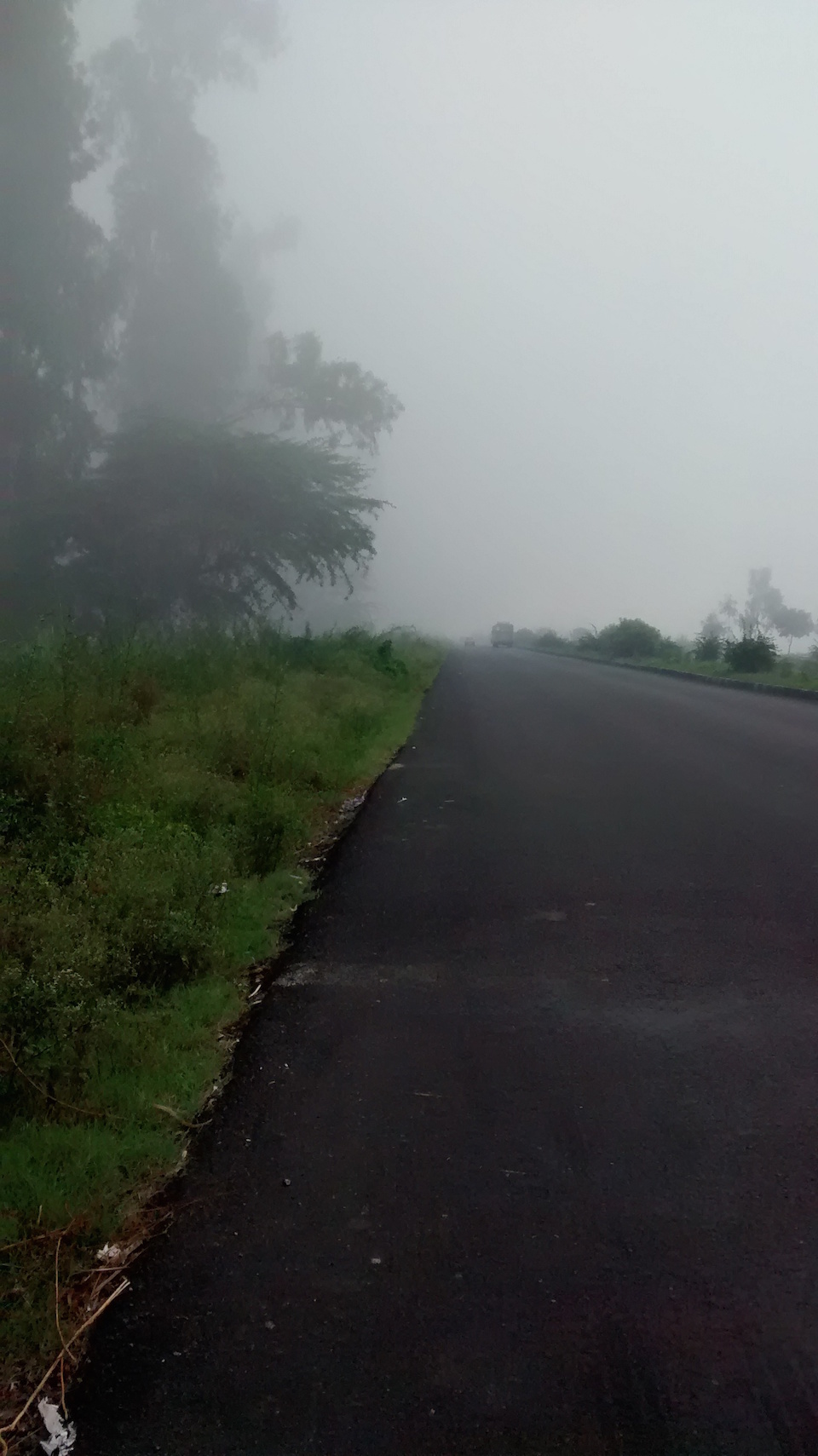 Once the hills presented themselves, everything else just ceased to exist. Kumaon is green everywhere and I was travelling in the post monsoon period. This was a particularly special shade of green, a shade that can immediately soothe anyone's mood. The air was fresh, the sounds were forgotten but familiar and the energy was back. The slope of the emerging valley, the many bridges and dhabas, the smiling faces – all reminded me of the days spent in the mountains during the previous years. Oh, how much I had missed all this!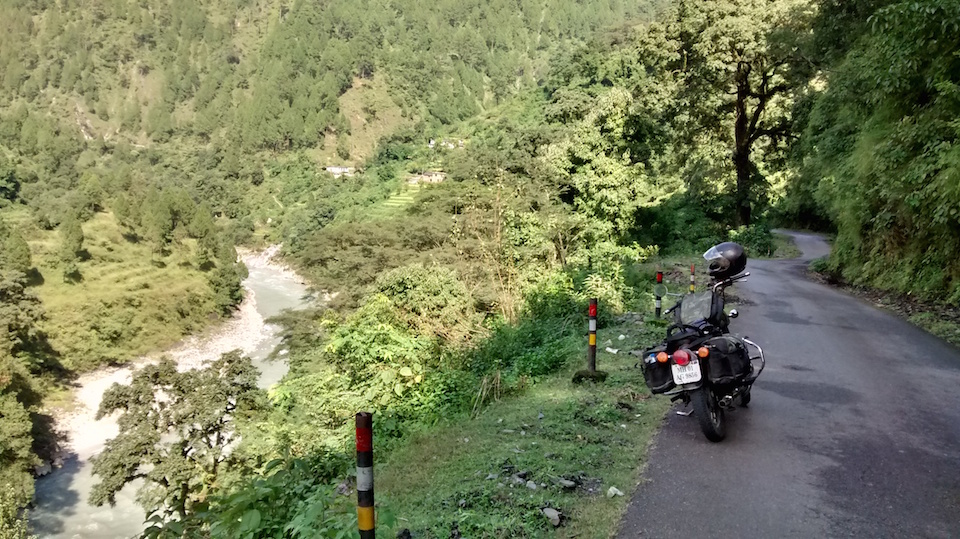 Almora was covered in mist that evening. A kind of surreal mist spreading like a blanket where ever you look. I stopped for the night.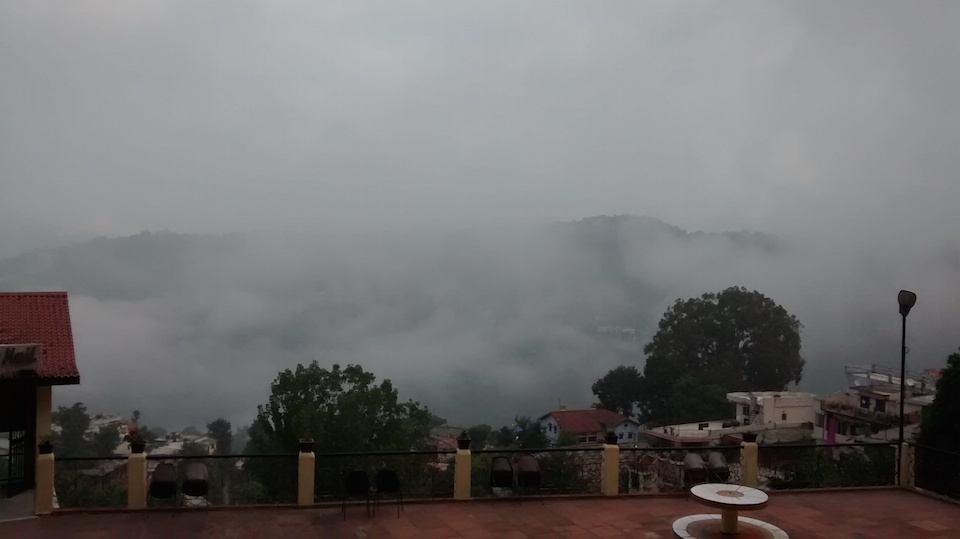 The morning threw away the misty blanket and revealed its true grandeur. It was going to be a great day for riding. The sun was bright and warm, just enough for comfort and the wind was cool, just enough to counter the sun. I played hide and seek with the sun through the greenery and the impossibly nice roads everywhere.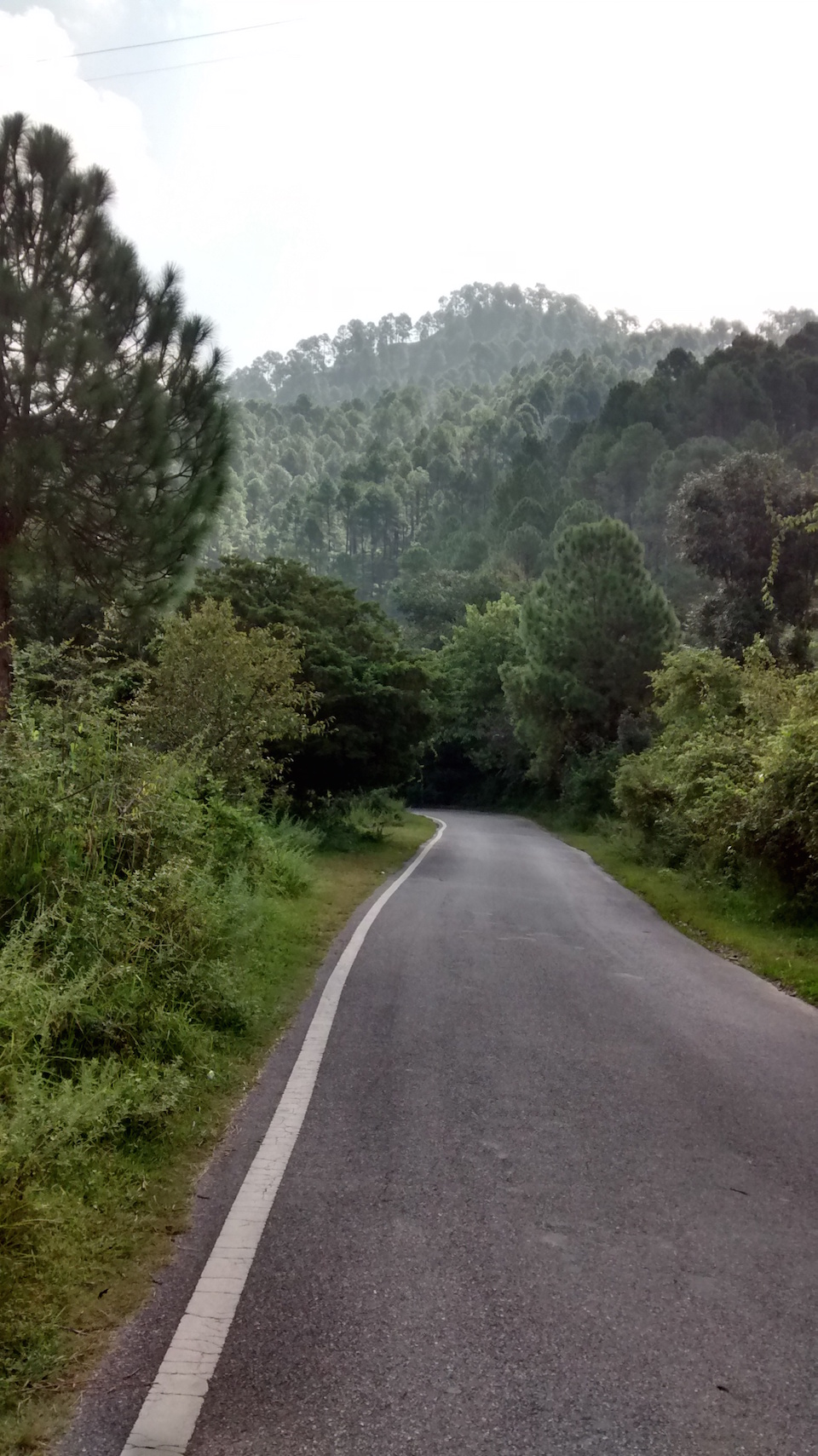 Along the way, made a small stop at Vijaypur which is close to, well, nothing else. Which makes it fantastic for Chestnut Grove by Linger, something everyone should try out at least once. I even made a new friend there.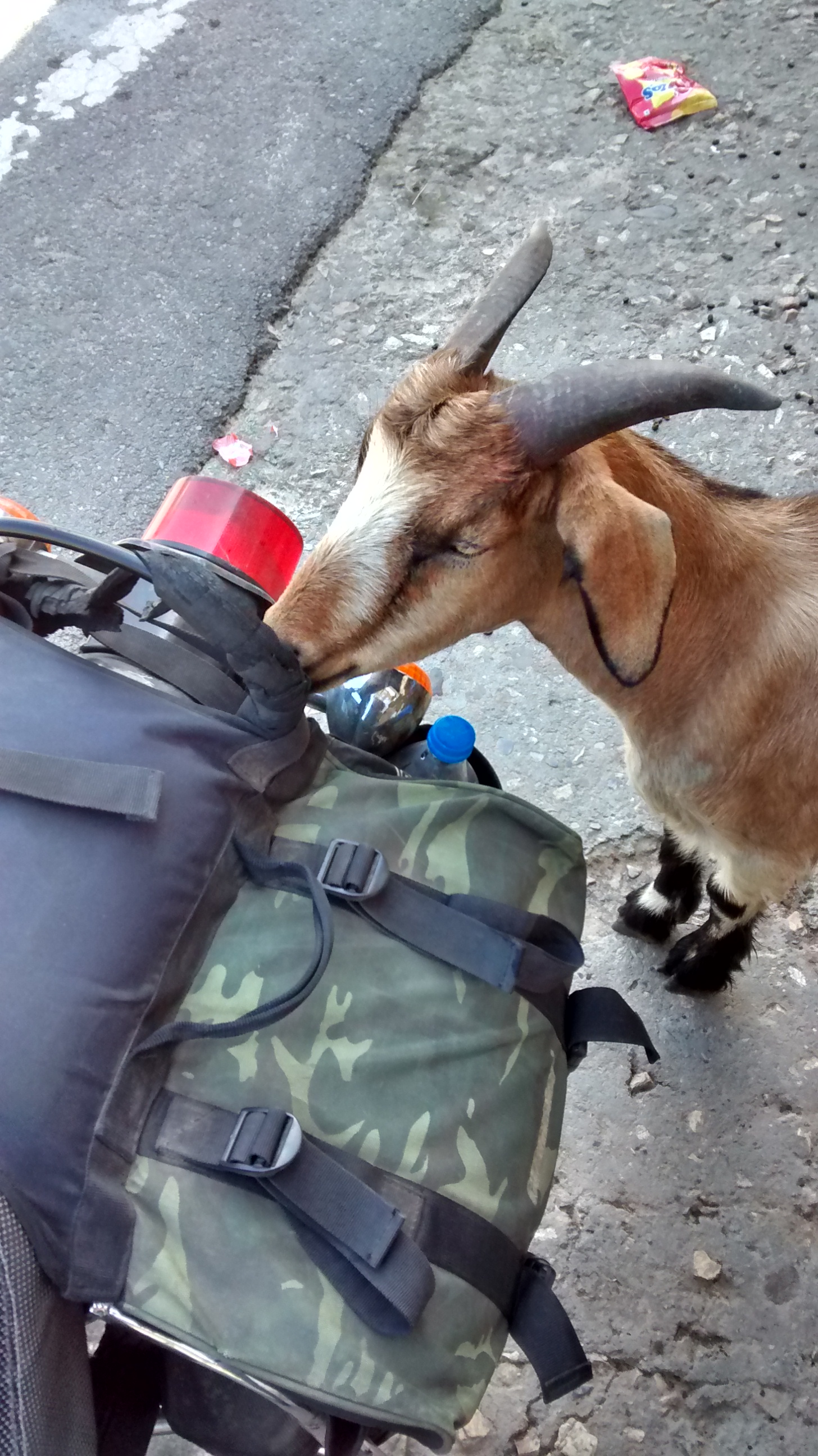 The ride from Viajypur ahead was just magical. Lush green hill sides with rolling fields. Expansive valleys with tiny looking winding rivers below. Pine forests with small white houses peeping through. Even the roads broken by landslide were beautiful.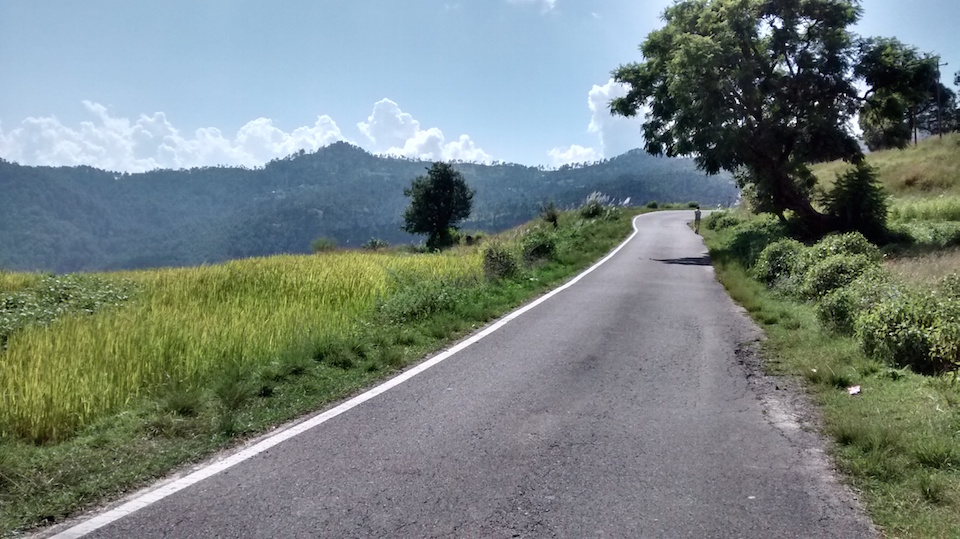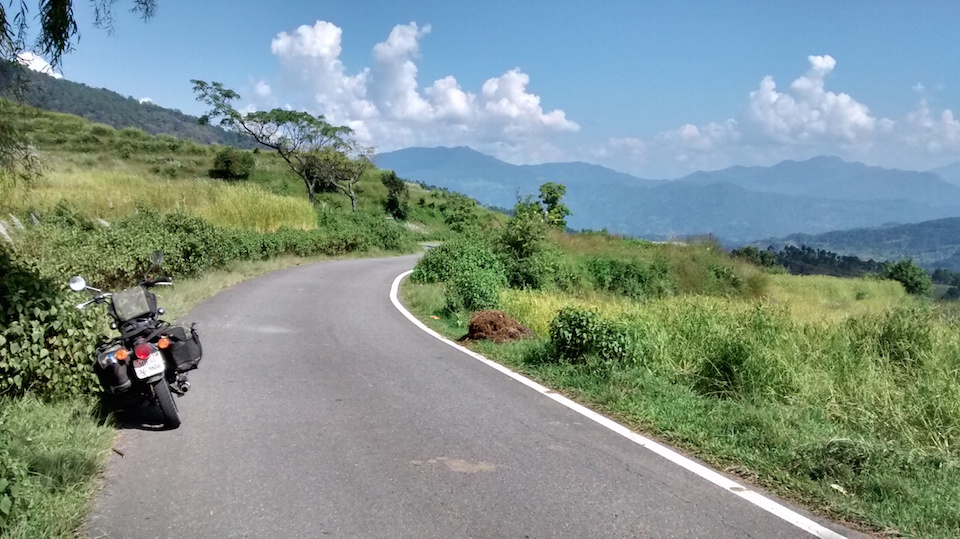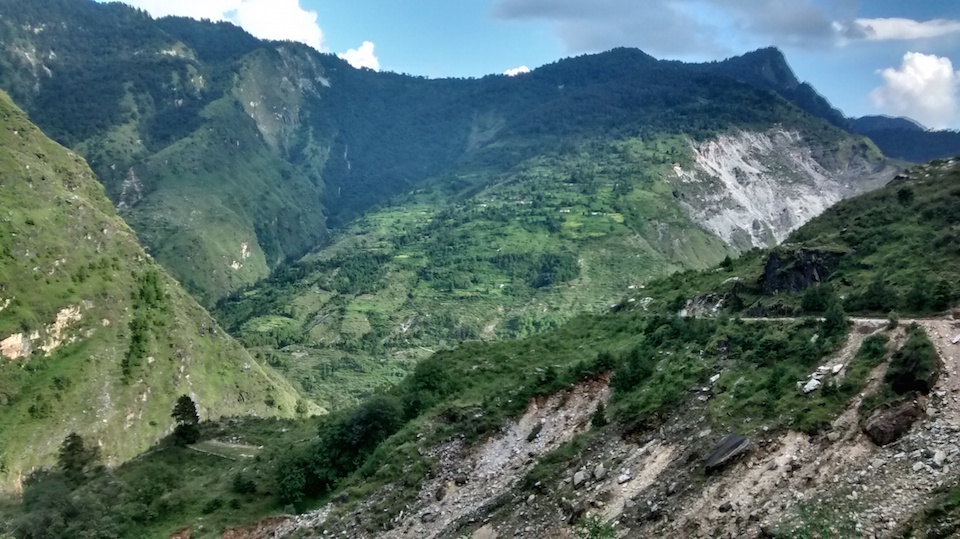 And then I encountered Birthi (location). The waterfall was massive – at least ten stories high and the splash at the bottom was incredibly wide. The river had been feeding off the monsoon and the torrent of water it threw up was too irresistible to pass on. I decided to camp for the night.
I went to the bottom of the falls hoping to get some pictures. All I got was a completely drenched body, a wet phone and a new friend. My streak of new friends from the animal kingdom almost killed me when power went out in the dark soon after I discovered a frisbee sized spider in my room. This was one of the creepiest nights I have spent ever. Still, the KMVN Guest House is highly recommended for being both awesome and cheap.
I the morning I headed to Munsyari, the last outpost towards the border with a road connection. The mountains were properly spectacular at this point.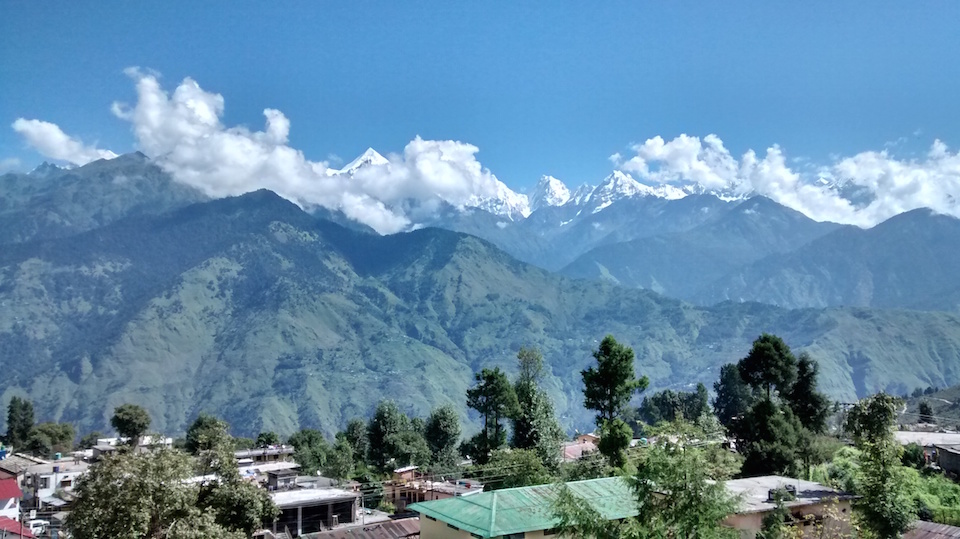 By this time, I was completely lost in the Kumaon's vibe and just kept taking random roads in random directions deciding only by which path looked more tantalizing. I lost sense of date, time and place and couldn't be happier. It didn't always lead to a happy ending like the 12km of pure hell I had to go through when I chose a tiny village road instead of the highway staring at the my face. But mountains just kept on giving and I lapped it all up with both hands.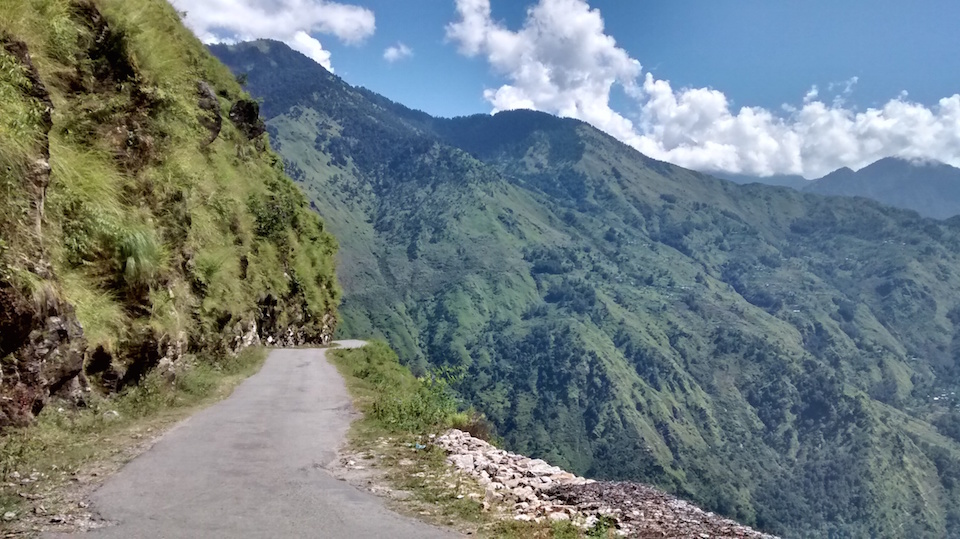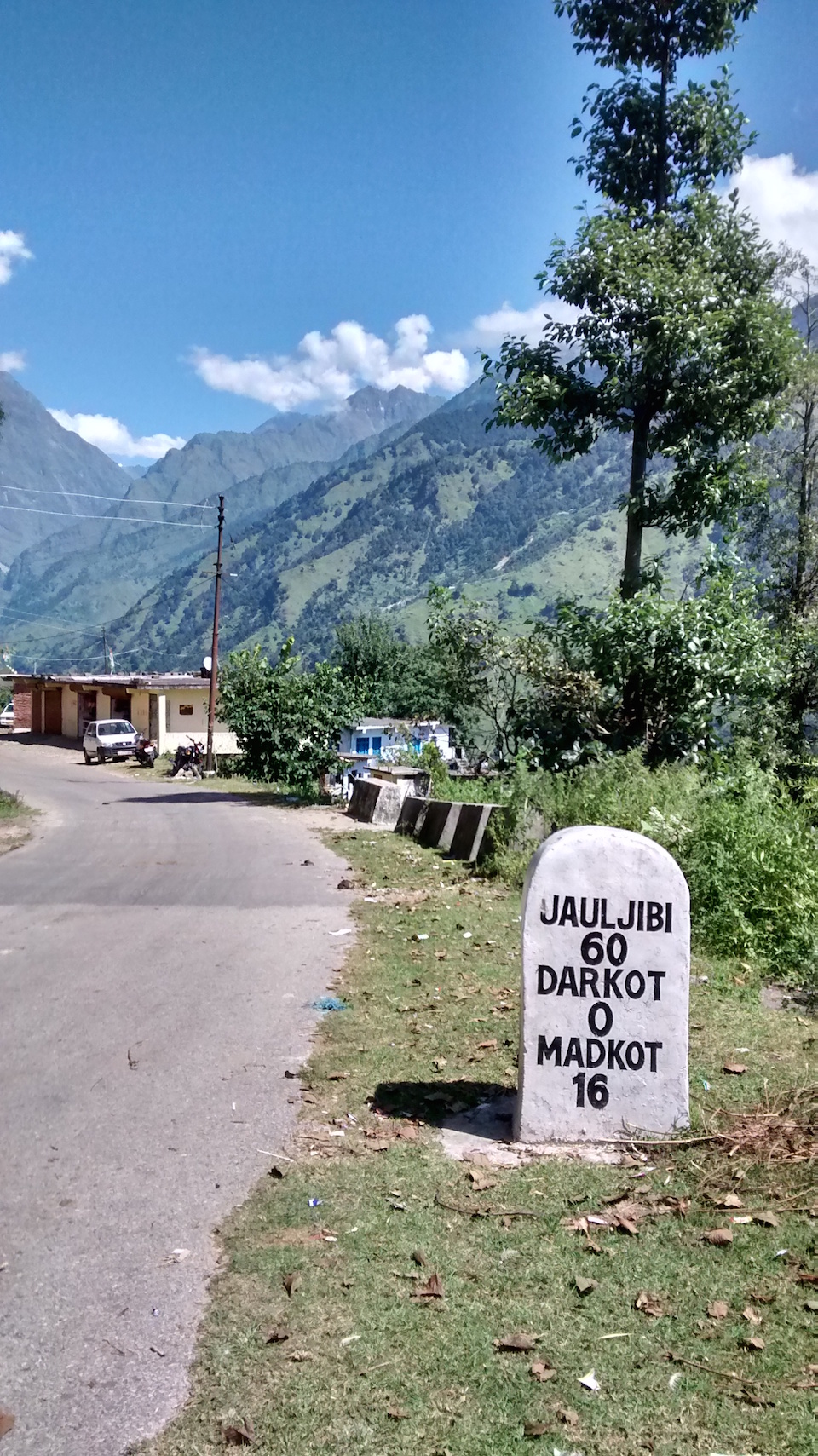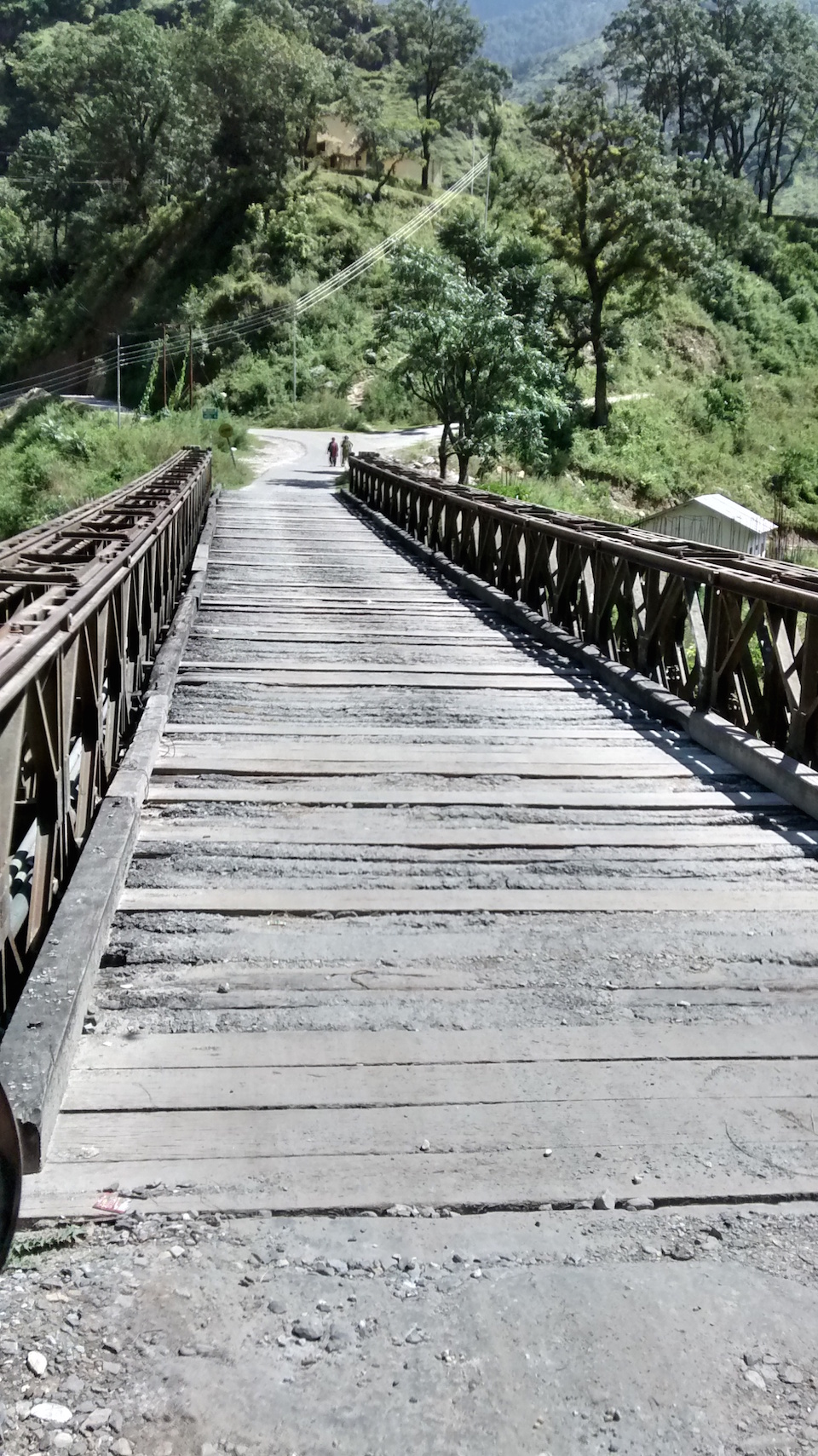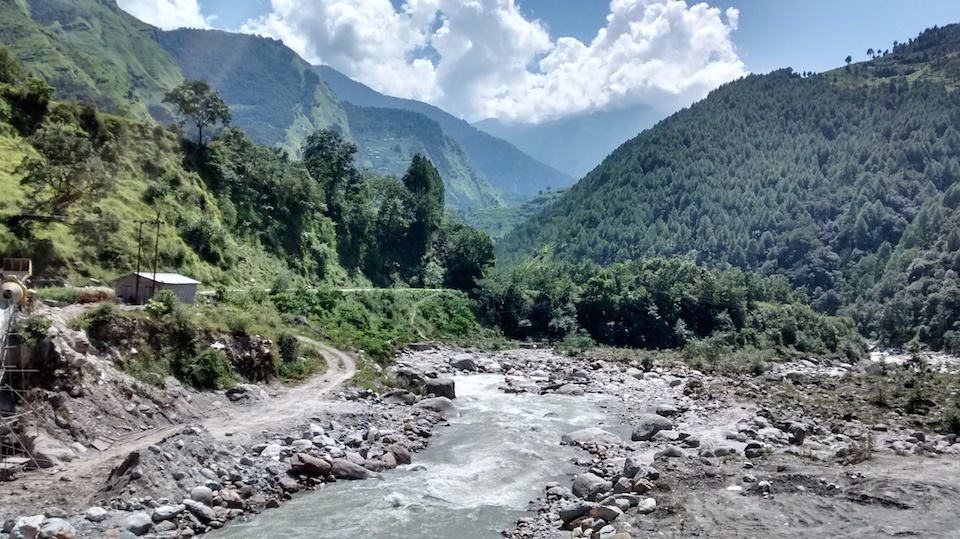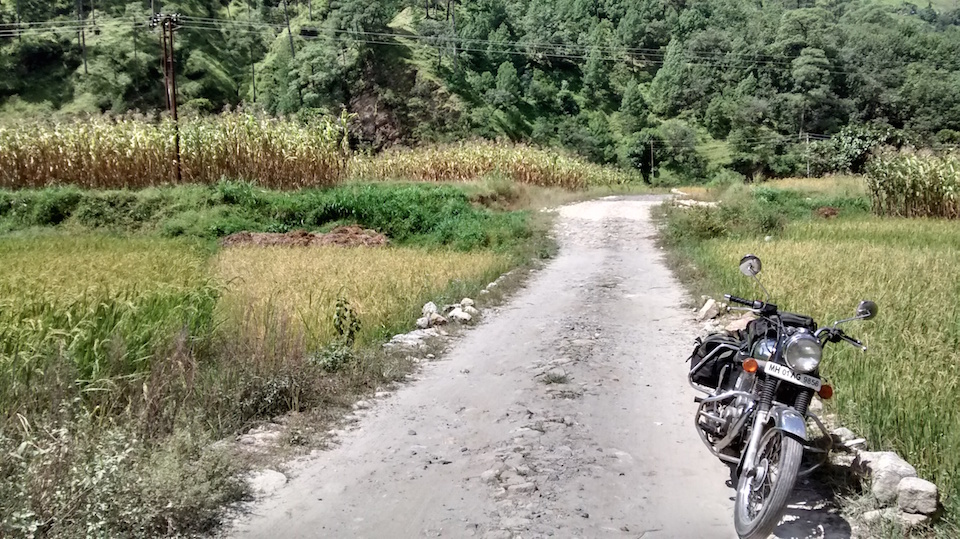 I stayed the night at Pithoragarh once again using the services of KMVN. If you are on a budget, make sure you check with KMVN first. The location is amazing, service is lovely, plenty of parking space and all at a price that will not burn a hole in your pocket.
Getting out of Pithoragarh, I encountered the only really bad stretch of road (apart from the village road that I knowingly took). And I encountered, the best riding road I have even been on in the mountains in India. For over 2 hours, I was accelerating, cornering, braking and sliding like I was in heaven. Fantastic blacktop, well marked edges, no traffic, lovely foliage and pleasant weather. Seldom have I had such a giant smile on my face like I had on that day. What a ride!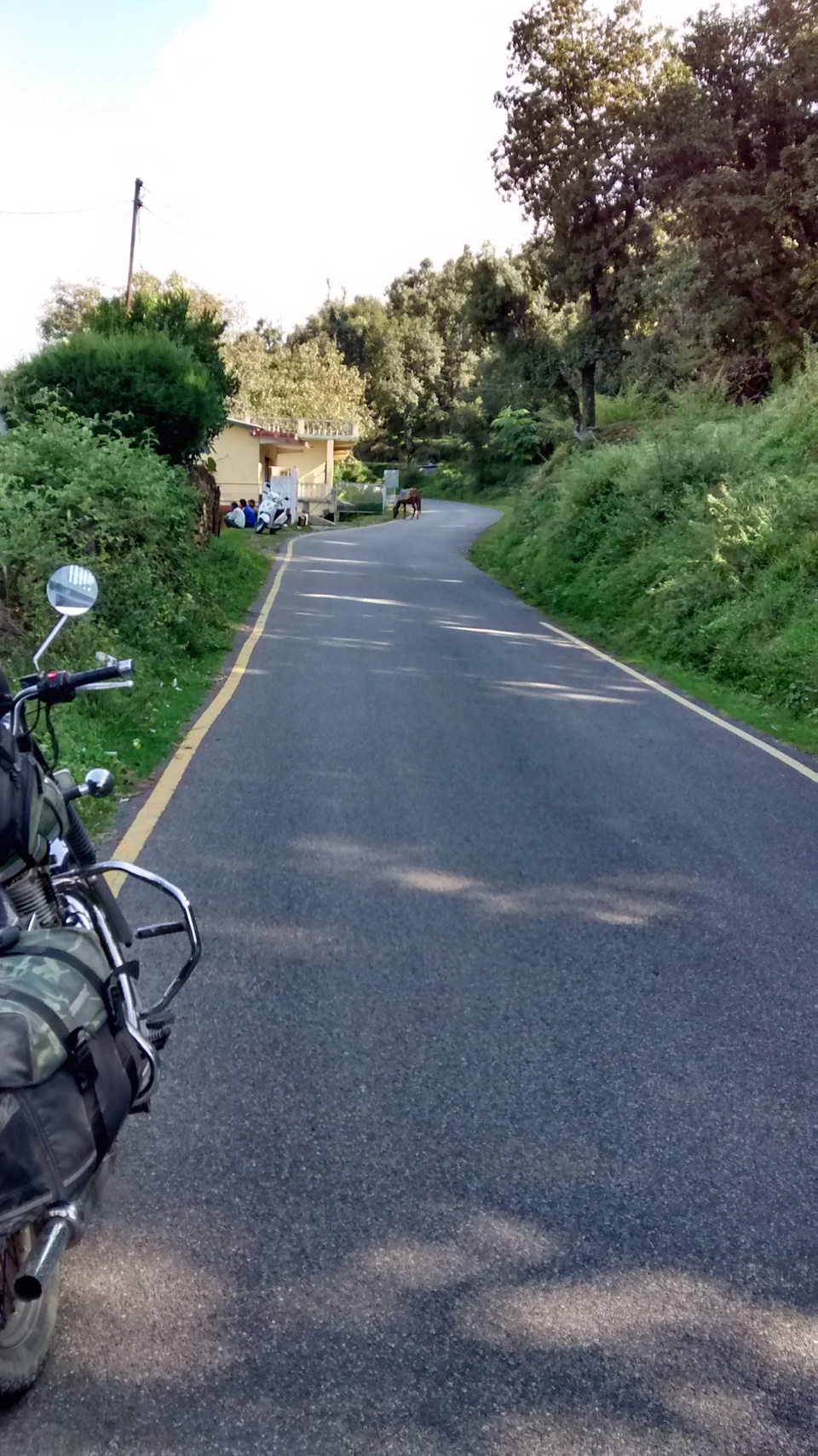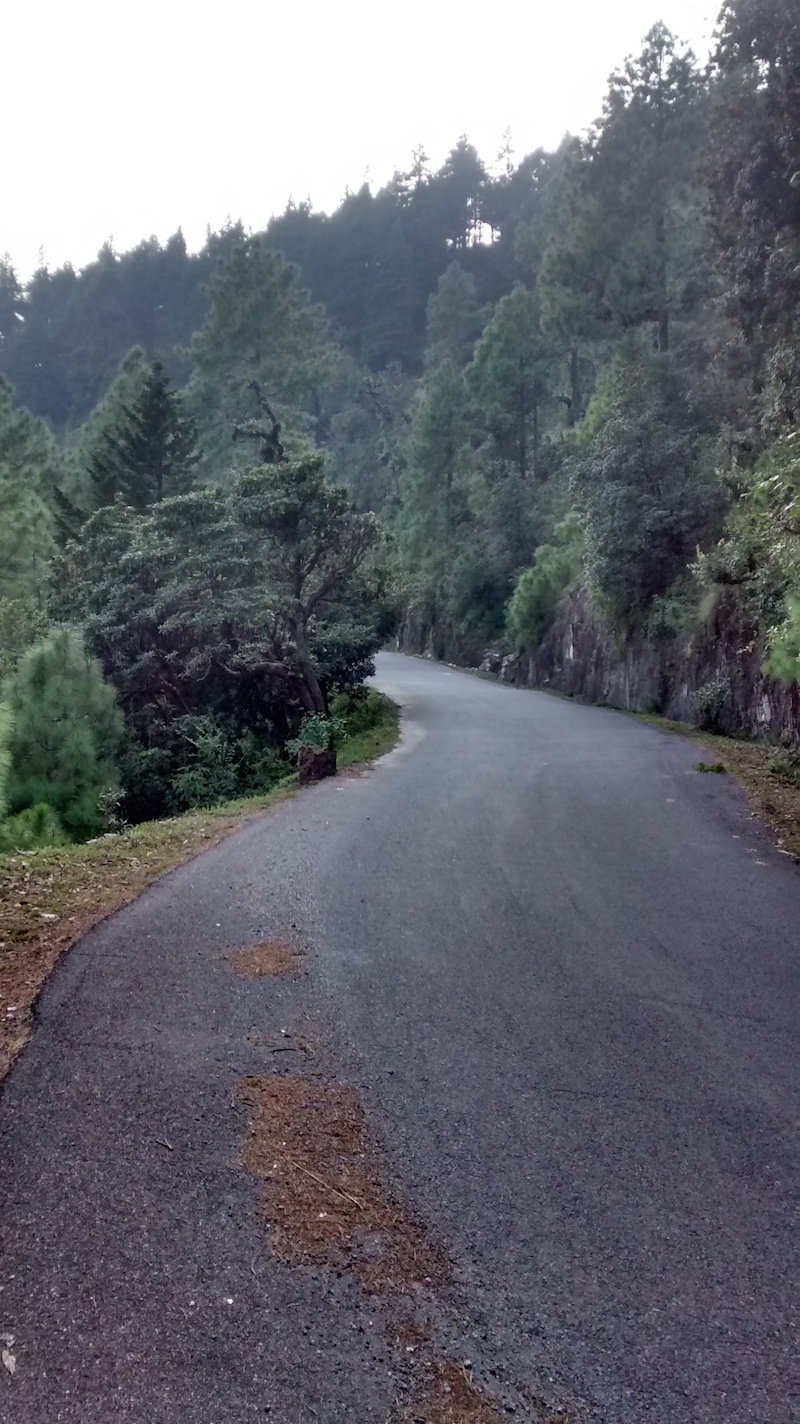 And again, another furry friend.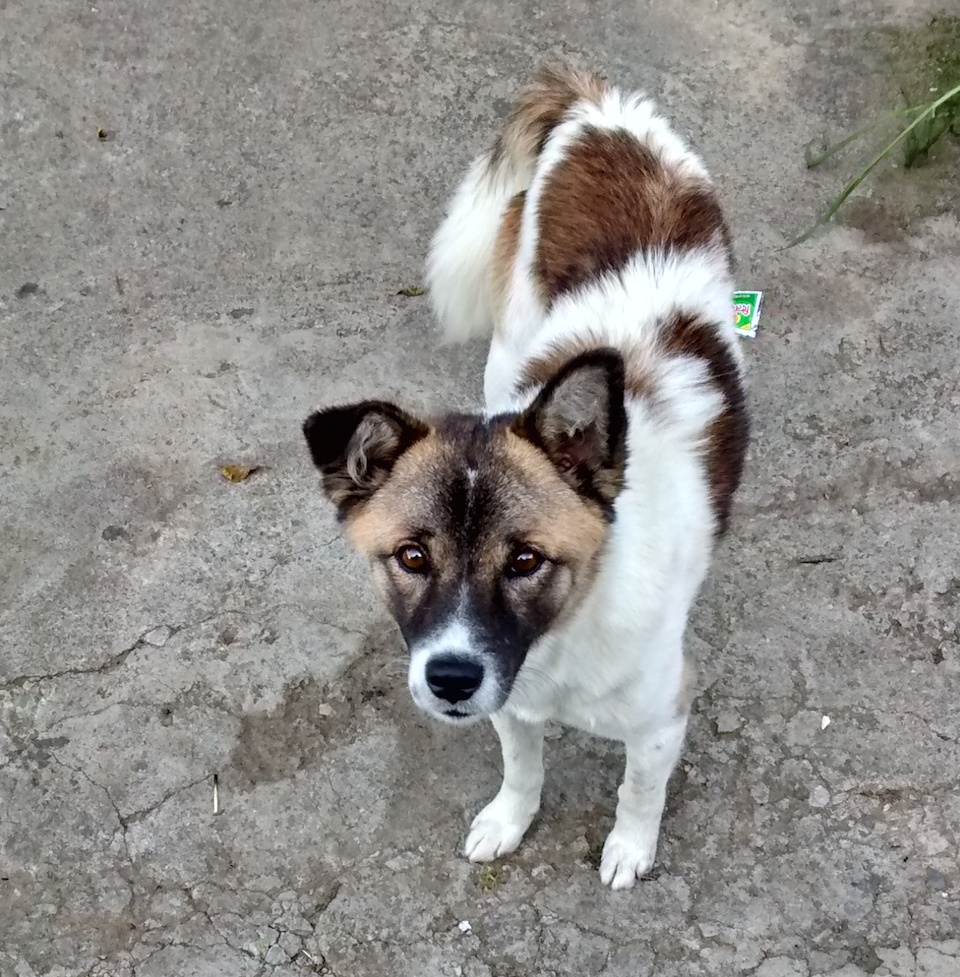 Evening was falling and I was headed towards Mukteshwar. Small tourist town just the edge of the good part of the mountains. Another shout out to KMVN for a lovely property at a lovely location. Peaceful evening.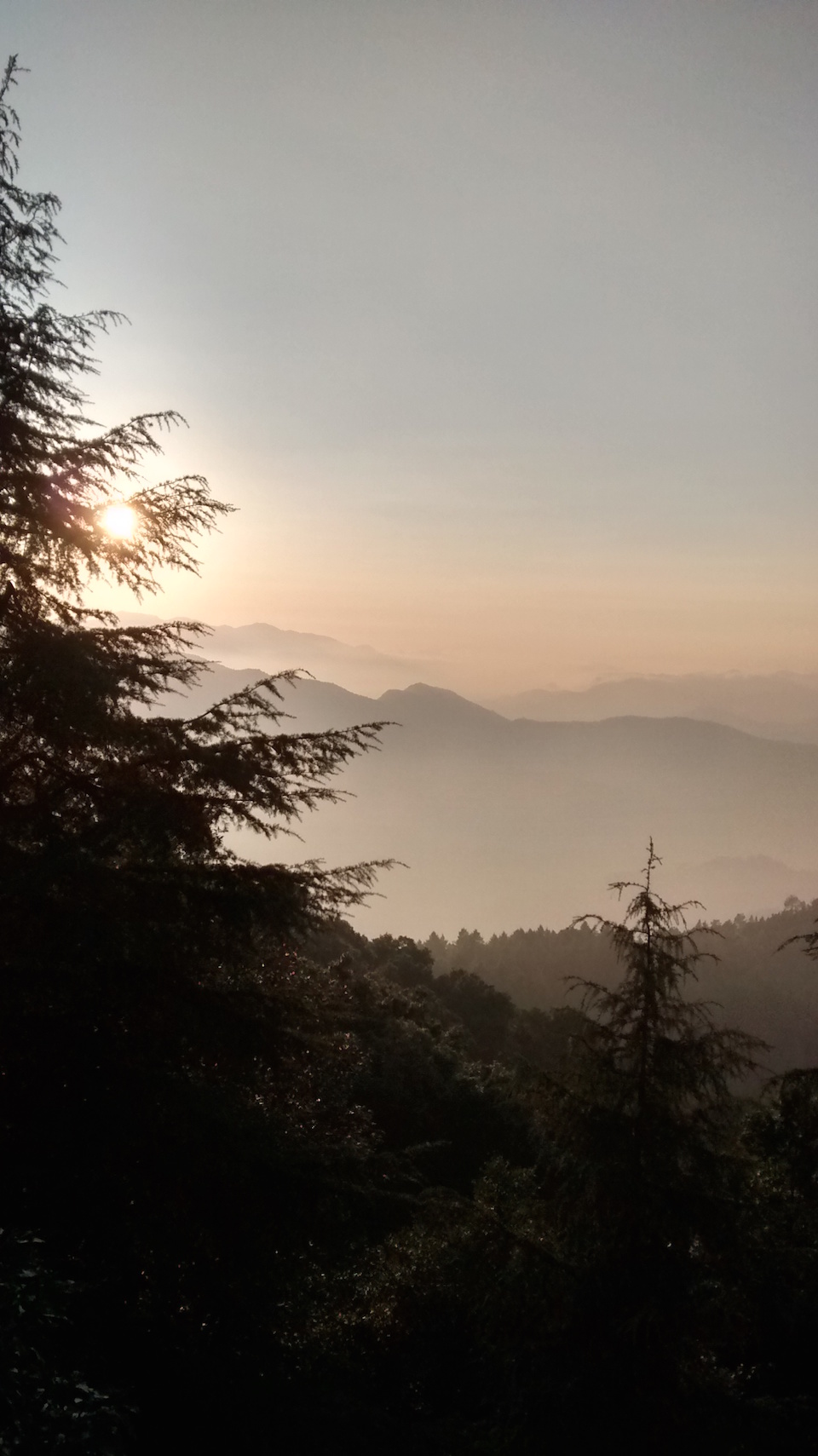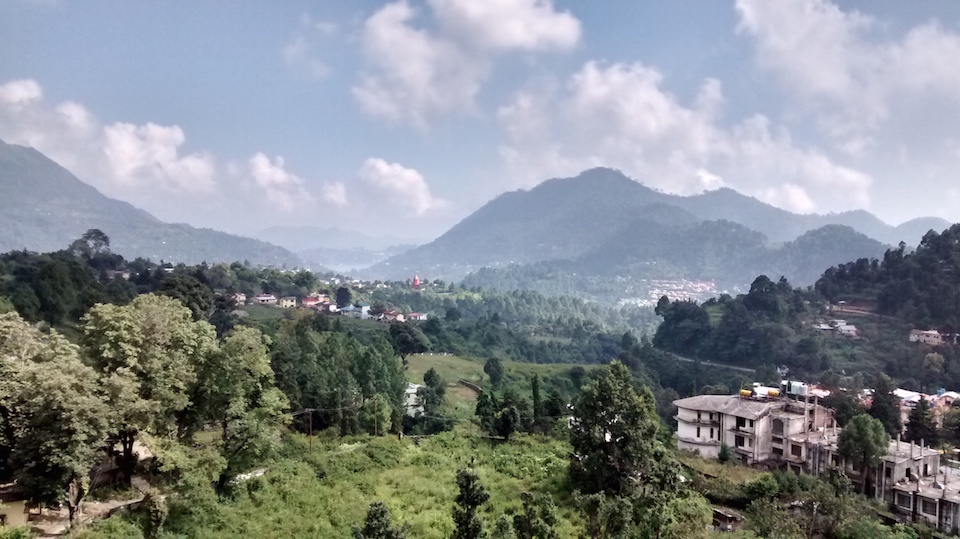 Not so peaceful morning. As is customary, my ride story cannot end without something going wrong with the bike. Turns out, there was a wire gone loose which kept the headlight and taillight on anytime the key was on (which was the entire day). When I woke up, there was no juice to even start the bike. I had a dead iron horse on my hands.
For half an hour, I pushed that pig up a slope, sat on it, let it roll and try to start it by putting it into gear. Too cold. Too slow. I was panting and gasping for breath when the locals decided to take pity on me. Three boys got to the duty of pushing the bike back up the slope for the 12th time and ride it back down. 18th time. 26th time. 35th time. It was probably the 40th time the bike rolled down that it finally decided that it had had enough fund with me and gave a coughing start. What a relief! I thanked everyone and made haste.
When I woke up, I thought I will be in Delhi by 7pm. It was 5.30pm and I was entering Haldwani. And right when I was considering whether to take the dreaded Rudrapur bypass, I promptly had a puncture. A sign? I didn't think much and got on with the repairs when I realized the tube was a goner. I needed a new one and there wasn't any available in the city. Short deliberation later, I got a smaller tube fitted and went off. Slowly. Slowly. Until 10 minutes later, had a flat again. There was no way this was going all the way to Delhi. Sardarji in Haldwani came up with one and a half tubes to hold up the pressure. The whole thing was literally being held together by rope and duct tape. It was 7.30pm when I left Haldwani.
Rudrapur bypass did not disappoint. Massive traffic. High beams. Terrible road. Bad driving. It all comes together there. I hate that road. And I was forced to ride ever so gingerly through the pot holes due to my tyre. What a pain!
Eventually when I reached Delhi, the familiar vibrating hand and completely lost mind greeted me. Royal Enfields and wanderlust can do that to a person.
The spirit of Kumaon shall live on for a long while.