Till yesterday night, I hadn't realized that Gurudongmer Lake was over 125 kilometers away from Lachung. And that for covering that part, Lachen was a better place to make a base. One needed to return from the lake to the army base by afternoon to stay on the safe side of weather.
With no choice, I left Lachung at 6 in the morning. That's the earliest I have done anything this whole trip. First up, I needed fuel. I had unconfirmed reports of petrol being available at Chungthang, enroute. That's unconfirmed though. And it is only 6.30 in the morning. Tough call. I ask around for about 20 minutes. There is a fuel bunk but only stocks diesel. I am about to give up and risk going on a less than useful tank of fuel when the savious comes along. With new directions, I head down a narrower than hell alley down to a pig sty. And as they say along came the petrol. 7 litres down with 30% premium and I am set.
The next 70 kilometers to Thangu are some of the most testing roads I have taken. Broken. Landslides. Super huge amount of mud. Sand on uphill roads. Ice on downhill. There wasn't a stretch of 1 kilometer when I didn't have to brake, clutch and acclerate or when my butt didn't hurt. I was eager to reach the place before it was too late. All the vehicles for the lake had already left, I was told. Not a nice thing.
I reach Thangu at 9.30 and I am told, I am already late. Gurudongmer Lake is just 35 kilometers away. What's the hurry, I am wondering. I had my cup of tea and soon find out.
I was thinking Chungthang to Thangu was bad roads. What I got ahead of Thangu was unmistakably hellish. What was surely a metalled road not too long back had turned into a testing ground for off road vehicles of the worst sort. Ice. Snow. Melting ice. Melting snow. Melted ice and snow mixed with soil. Lot of loose soil. 70 degree climbs on loose soil, ice and snow. Potholes. Potholes filled with water and mud. Potholes covered with slippery ice. The 21 kilometers to the army check post made me think about everything I had done in life and question the worth of it all while I negotiated the road. There were no answers. Or maybe I was too busy riding to hear them.
The army post is the only place I was asked for the hard fought permit so I hold the place dear. The sign there boldly proclaims, Foreign Nationals Not Allowed. This part is too close to China and hence, off limits. I get my permits checked and with appropriate wondrous statements by Army officers about what the f@#$ I was doing here on a bike and with good luck for the road ahead, I was off.
Then the beauty revealed itself. Snow came almost immediately. First a little, then in masses. Soon it felt like riding in Ladakh all over again.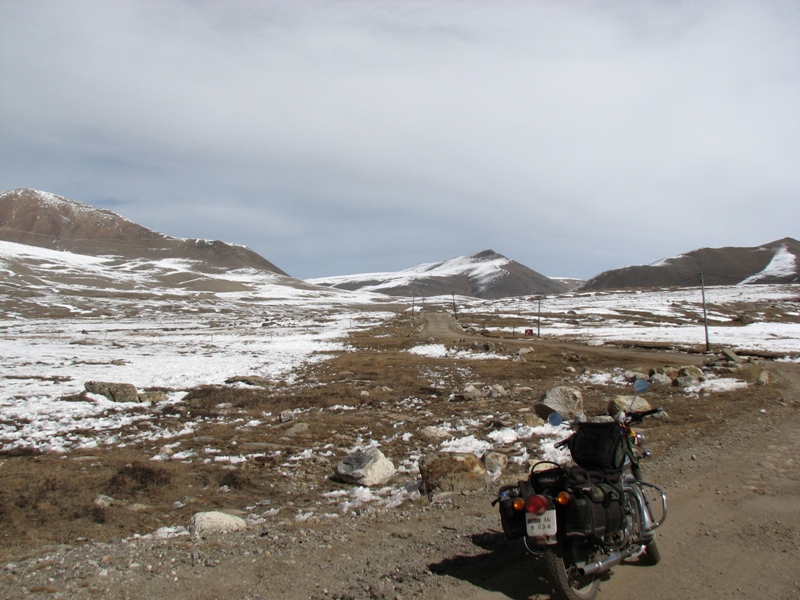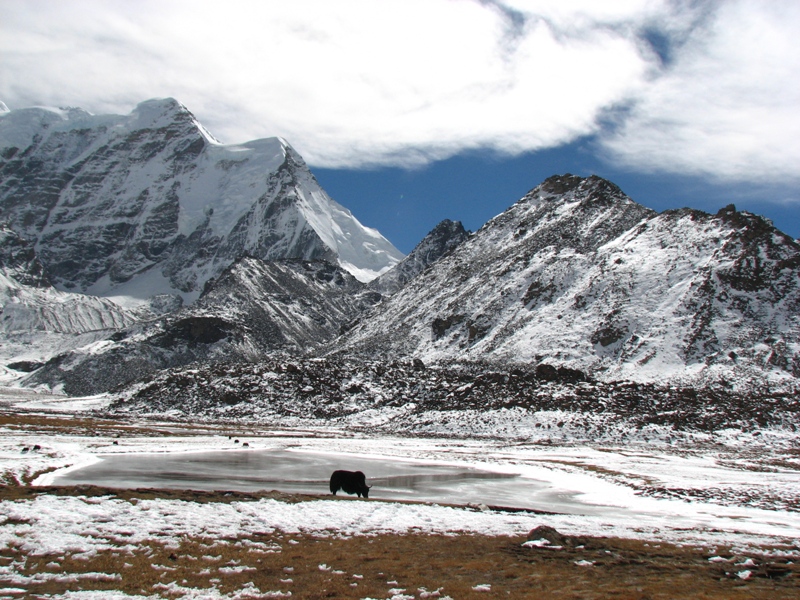 The 14 kilometers to the the lake took me an hour to negotiate. The thing is this. The track to the lake seems to have been created out of nowhere. I may not be wrong here. The darn track passes through live minefields with large red signs telling people to stay off the fenced area. The track is nothing more than a muddy patch of land covered in snow on both sides with truck tyre marks the only sign that machines move here. The hands get a pounding trying to keep the bike on track. The bike is being pounded since morning anyway.
And then it comes. 20 meter climb on a super slippery surface where one SUV has been stuck due to lack of traction ahead of me. I, however, wasn't ready to be stuck. Gurudongmer Lake is a revelation. I saw pictures. I heard stories. I had expectations. But this was beyond all that. Pristine. White. Snow covered. Frozen. Tranquil. I am thinking of better words but the only thing that comes to mind is the image. This is the best place I have ever come to. Ever.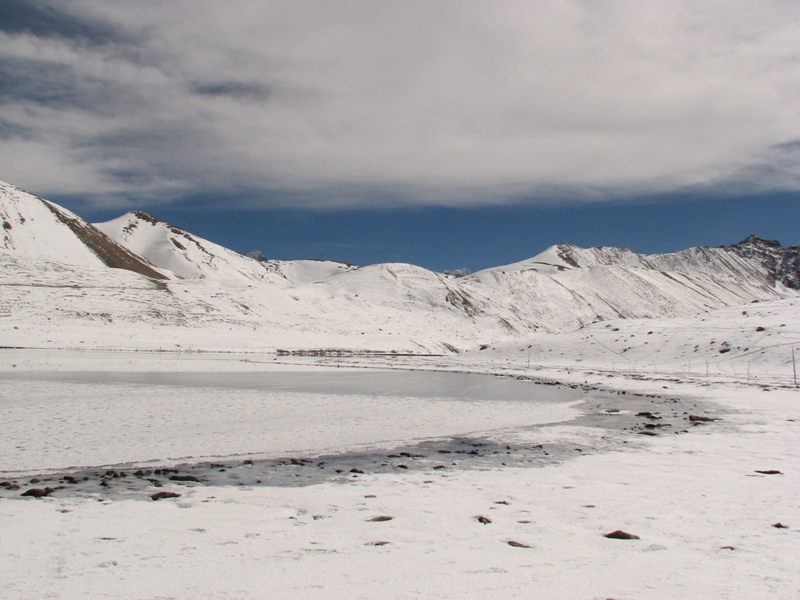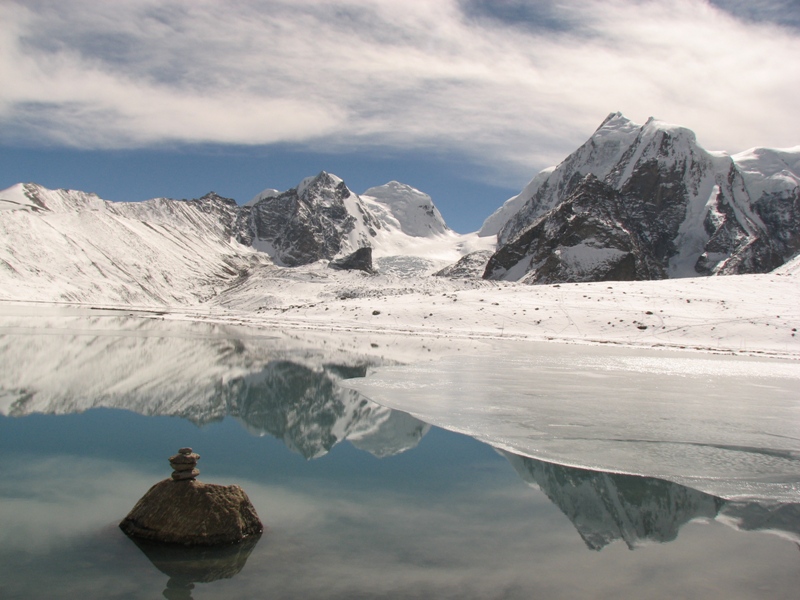 I had a chat with a few military personnel on a personal trip. As usual they react with the usual positive amazement and congratulate me on the self confidence and other stuff. They click a picture for me.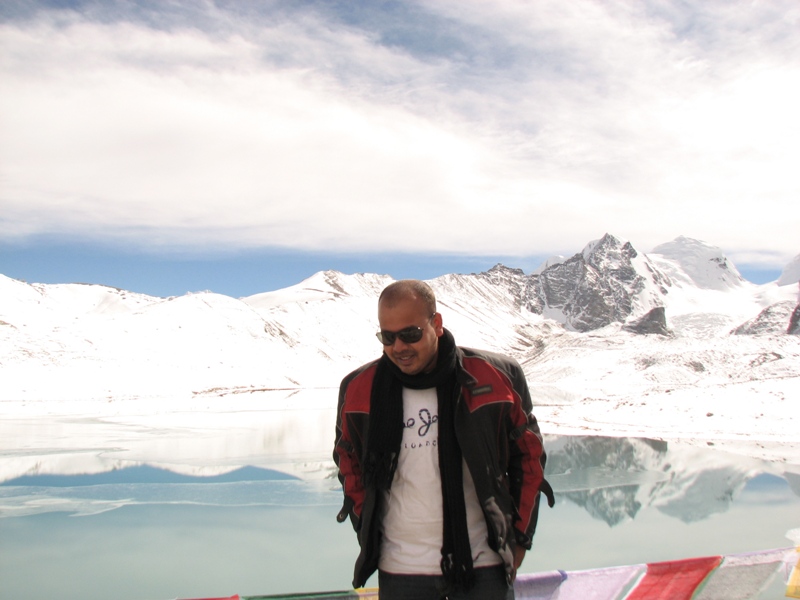 I then meet this other very interesting gentleman. Yash Veer Bhatnagar from the Snow Leopard Trust out there to study and survey snow leopards. I think this is one of the most interesting jobs I have come across. Maybe some day I would request him to take me as his assistant on one of his field trips.
The way back I promptly lost my way. And ended up here. What do you do when you land up here?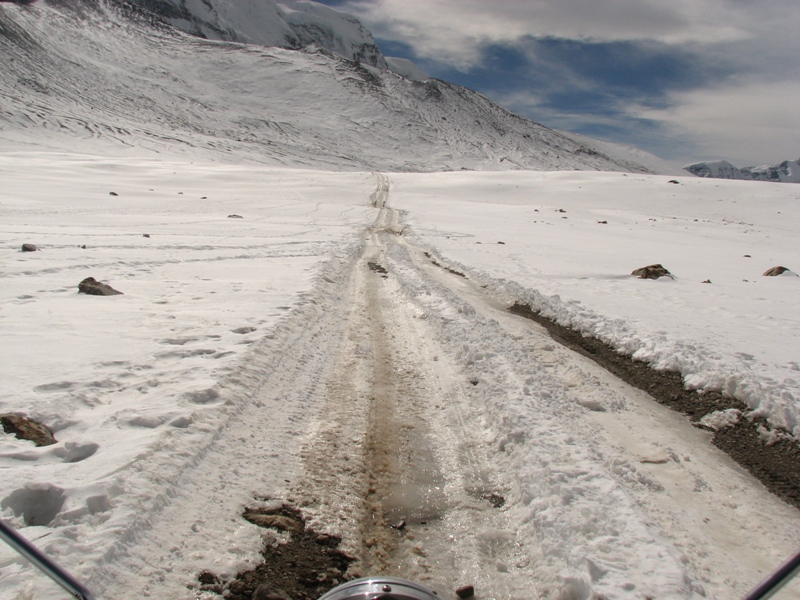 Today was the absolutely the most thrilling day of riding. All the way back to Lachen, I had covered around 190 kilometers from 6 in the morning to 3.30 in the afternoon. I had the satisfaction of having done what few people will do in their lives. I knew all this has been worthwhile because I came here. Never felt so good. Really.