The night was peaceful. The morning was blissful. I rode hard for about 70 kilometers before I reached a small bridge with a couple of tea stalls around it before rising into the hills. I was sipping my tea when everyone else was huddled into a TV running news in Oriya. I didn't quite understand what was going on when I finally started catching words and phrases. Something was on in Mumbai. I then heard R R Patil, then the Commissioner then someone else saying the NSG, Marcos and the Army had been deployed. I missed a heartbeat. Something was wrong. Horribly.
There were no phones around and no cellphone signal. I rode roughshod the next 50 kilometers to the first village with a phone and called my flatmate. The story was mindboggling. Almost unbelieveable. You watch stuff in films and read it in cheap novels. Mumbai was living the horror.
The entire day I rode on thinking nothing but what was going on in the Taj and the Oberoi and Nariman House. I tried to distract myself from the thought with random stuff. I even lost one handglove. Just one. But all day long I kept thinking of what was going on. All I wanted to do was to get to a hotel and switch on the TV.
Finally after some seriously pathetic roads and super jerky jittery painful ride, I rolled into Raigarh. Found a hotel quickly and sat down to see what happened. Now what happened at the Taj and other places was bad enough but what had me scared the most was the shooting that happened at CST Station and Metro Cinema. How can someone just walk into one of the most important stations in the city with a AK47 and a bagful of grenades and just start killing people? Where are we safe now?
Bridge over Mahanadi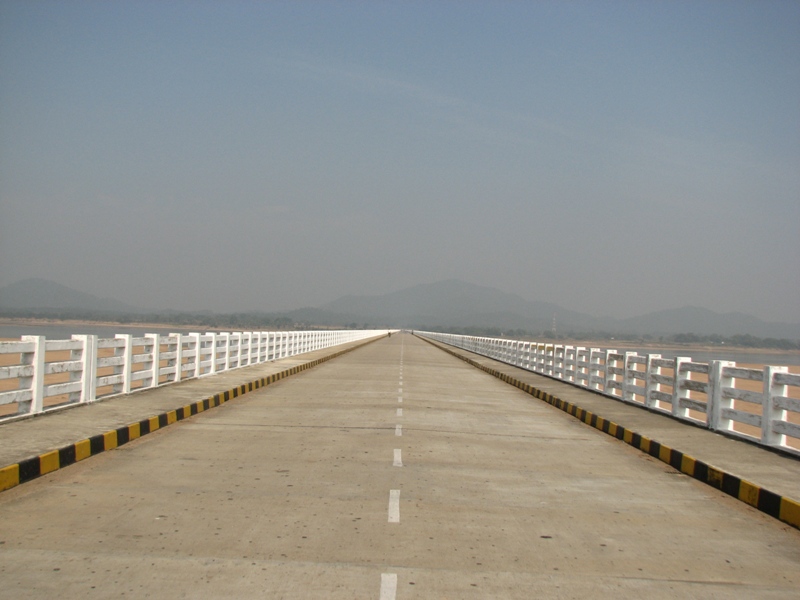 At the banks of Hirakud Dam's reservoir