There are days when life is all nice and cool. There are days when it sucks. And then, there are days when everything just falls into place and you have to bite yourself to believe it. Such is that 150 kilometer long stretch of two lane blacktop called the ECR. East Coast Road.
I woke up at 10. Didn't move my butt till 12. Then decided to head to Pondicherry. It was a wonderful day and what better use to put it that hit the road. So I took the camera and few essentials and headed out from the heat of Chennai's traffic filled streets towards the ECR. About half an hour later, I hit what is the life and passion of riders in Chennai.
The ECR is what everyone loves to ride. The highway runs for about 150 kilometers parallel to the coast. A lovely breeze always blows across the road pushing the fascinating scent of the ocean straight into your nostrils. The road is spotless, pothole free and with rather well behaved traffic. Its a joy to ride. And that is the least decent thing I can say about it. Its what everyone would want to ride on a long journey.
For the first time in the trip, I let the bike cruise when I could have speeded away freely. As the bike settled into a steady 60 kilometers an hour pace, my hands were free to do other things. Like wave in the headwinds. The feeling was great. It was like I was back on the roads to Kashid and Srivardhan near Mumbai. It was like Diu's beach promenade. As the air wheezed through the empty space of my helmet and entered my t-shirt, I realized that there was something missing in the trip I had done till now. All these days I had been riding tightly closeted in the Cramster jackets (which, by the way, have served me really well). Today I rode like one should ride. Free. No strait-jackets. No gloves. Helmet yes but could have lost it too but for the cops. Crisp air. Just you and the road. That's what riding is all about. That's what I was missing. That's what I will not miss from now on.
And then, as life is. Shit happens. Shit happened. Something rankled my brain. Maybe a nut was loose. Maybe something else. I stopped to have a look. And immediately shrunk with horror. There was a massive oil leak from the clutch casing. And I mean, massive. I didn't take a picture then but this is what it looked like about half hour later. This is a 2 second long leak.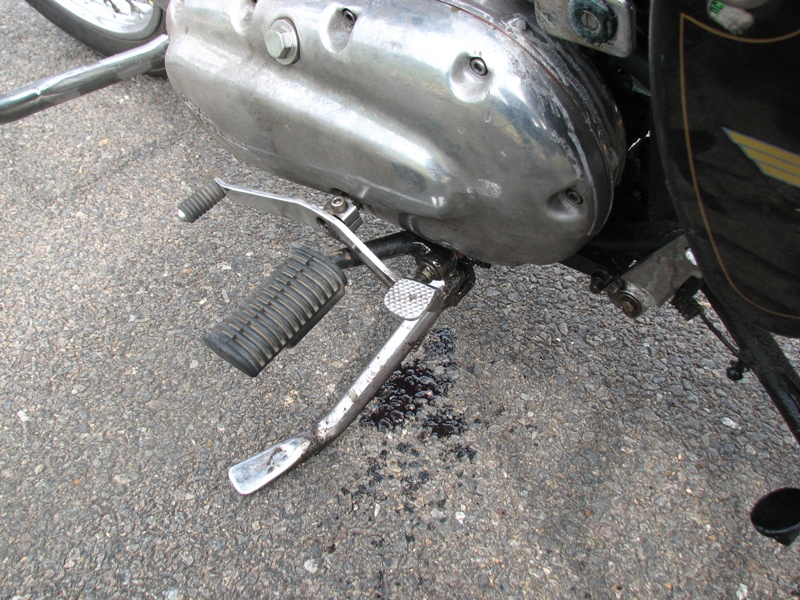 I tightened the screws around the casing but the leak continued. It seems the inner cover of the case has twisted again. Had happened once earlier. Not a good sign. The entire clutch set up will have to be dismantled. At least 2 hours. I could either turn around and head to a service centre or head to Pondicherry and hope there was a mech there (I had left the centre list at the hotel and my phone was out of battery). I turned.
At about 4.30 pm, I was at a Royal Enfield workshop. I am told any new work is not done after 4. That is the time for the work in progress. I try to explain to the lady that this is important. My schedule will go for a toss. I NEED THIS. I try to tell her it will not take too long but to no avail. Maybe they should change the friggin' timing on their name plates. If they aren't going to work after 4, why put timings till 7. I tell her I travelled all of India and this is the first time in the RE system that someone has said its too late for any work. And that in the city where RE is made. The irony of it all. There wasn't much that could be done with them. So I headed back to the hotel trying to find someone who might know someone in Chennai who could work on the Bull. Till now, no one.
What the heck.
[Tomorrow I have a 10 am visit to the Royal Enfield factory. Maybe I will meet someone who can fix that for me]
Some pictures from the ECR.