So staying back in Kolkata has had double benefits to me.
One, thanks to Gols and his enterprising mother, I have a bag full of clean undies. As Pal said very rightly, I wouldn't want to show my crack all over India, would I?
And two, I got to attend Sailor's wedding. And meet a bunch of friends from B-School days. Best days of life.
So me and Gols get ready for the event. Gols is looking for a girl to marry himself so he put up his best foot forward. (Any bong ladies in the same stage, or wouldn't mind being in the same stage, please note. This is serious).
Dressed in traditional bengali kurta (read: transparent) and dhoti, this was one rosogulla in the making. Gols was out to impress the ladies (strange thing is he actually manages to impress anyone he meets and that impresses me) in full force. For the ladies who find that interesting, Gols (rather unpopularly known as Siddharth) is 29 and a graduate of IIM Calcutta. Now works for an infrastructure consultancy firm in Delhi and makes obscene amount of money. One of the most popular chaps on campus and a decent guitar player (he did the background score in my totally fraud guitar playing video). Nice to be around. My guarantee (if it counts). Call me on xxxxxxxxxx or email me at xxxxxxxxxxxx@gmail.com if you think it would be nice to have a coffee of drink with him. AND I AM TOTALLY SERIOUS ABOUT THIS. NO POSERS PLEASE.
Anyway, I was on the road so didn't have any clothes fit for guests of anywhere. So I bought a nice shirt. This is how we looked.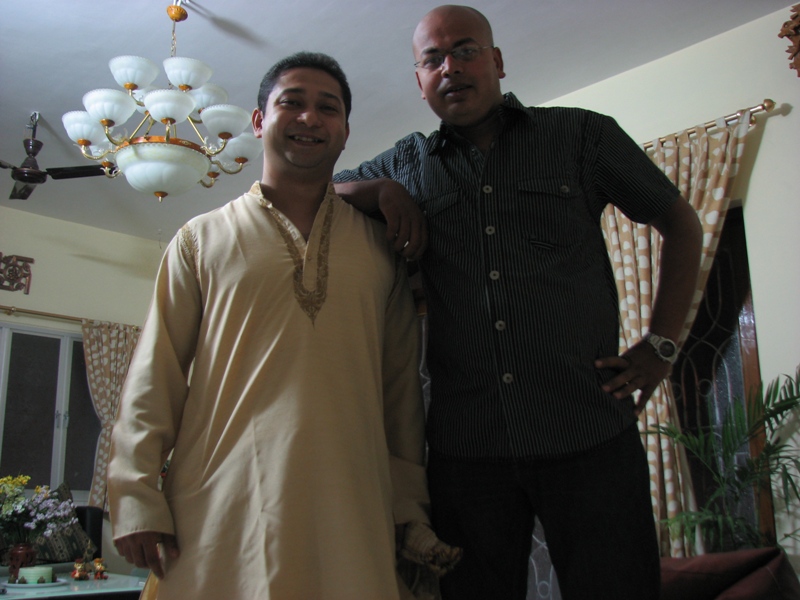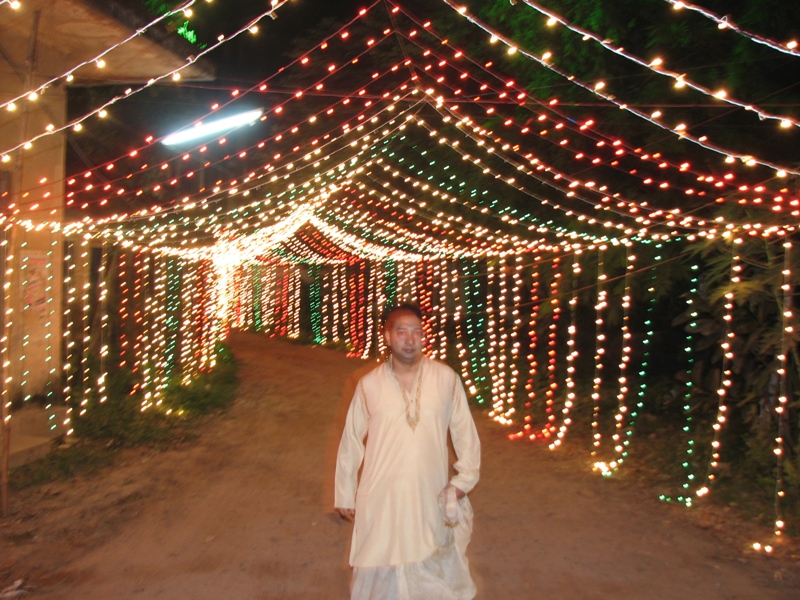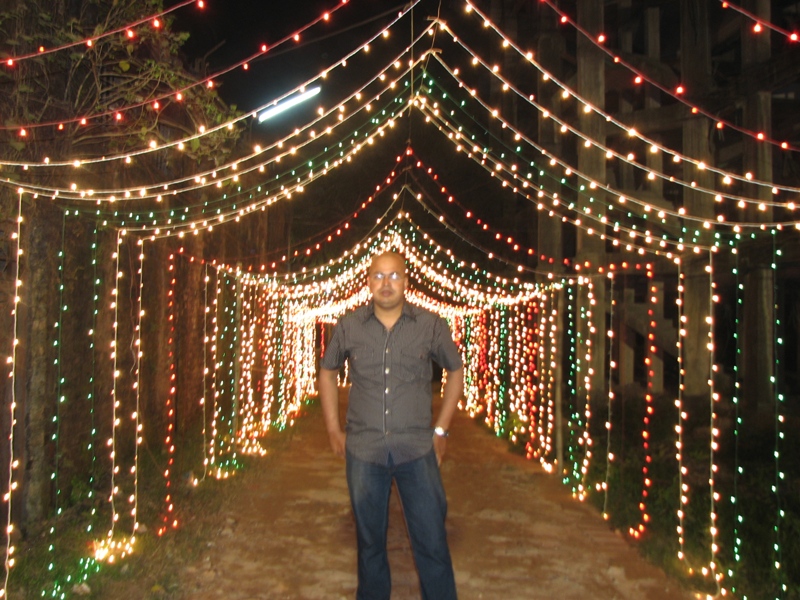 Sorry for the blurry pictures.
The bong shaadi is completely different animal than any of the weddings I have seen till now. And thanks to the time in my life, I get to see too many. Or miss too many. There is that amazing but intriguing sound that the ladies create with their tongues. All the guys said thy tried but failed miserably to take that sound out.
Then there is the cap the groom has to wear. Its funny. Looked almost edible. Even after all the food we ate at lunch (could have fed half of Somalia, I swear). I, in fact, considered the advantages if it was edible. It should be. Trust me. This is what it looks like.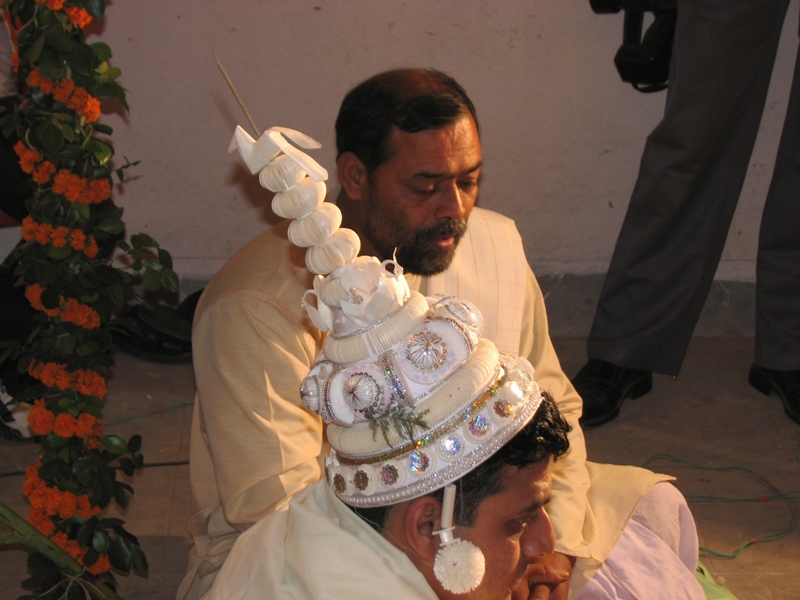 The wedding was super cool and super subdued. No dancing. No singing. No fighting. No guns being fired. No pangas being taken. No issues. No offense but people in my state will die of boredom in such a marriage. Our marriages are incomplete without these things.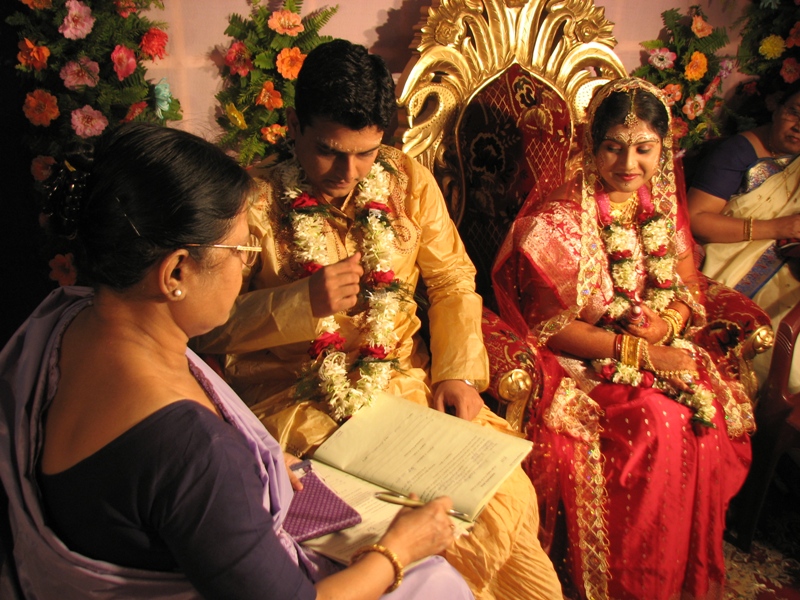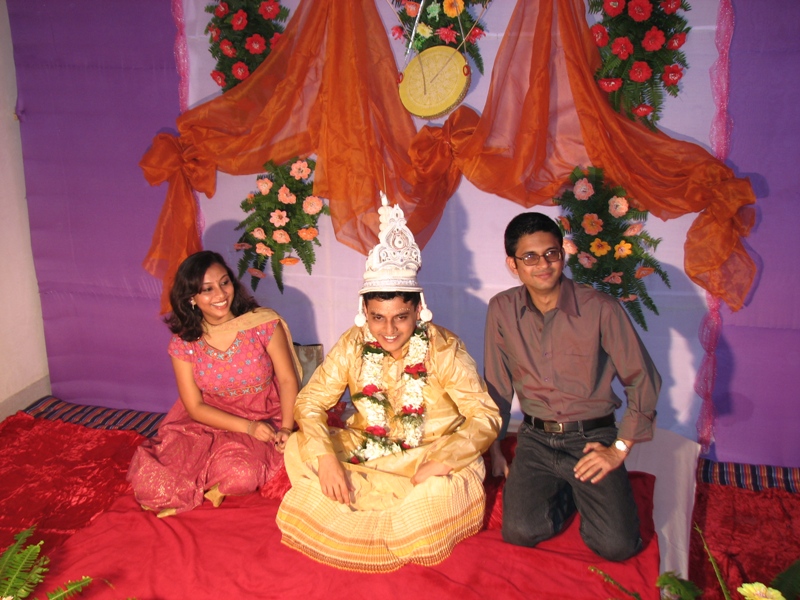 There were a bunch of our friends from IIM Calcutta for the wedding. Super cool to meet the chaps. That some people were actually following my story was great. We left at about midnight. Gols had an early morning flight (which I later came to know was caught only in the nick of time).
PS. Gols saw and memorized all the rituals of the marriage just in case.