I was woken up by the banging on the door. Thankfully it wasnt't the bald man from Hitman 2 (more ruthless than the one in the first Hitman) but Gols' mother. I got up, realized I had no toothpaste and was too lazy to ask for it, lied to her about brushing and hogged on massive amounts of payasam and corn flakes with fruits after showing appropriate amount of reluctance. I was set when her mom dropped the laughing bomb. The car was in the driveway and I needed to back it out, take out the bike and drive it back in. Its a laughing bomb because 1. I was laughing because I was getting to drive a car (I don't know how to drive. Yes. Me. Don't know how to drive a car). 2. Gols would be under imaginary rubble if he heard I was going to do that to his car and laugh with the helplessness of a mule with a huge load on his back.
As they say, heroes aren't born. Situations make them. Well so do drivers. I walked down the stairs cool as a cucumber and open the door. Now there is just about 4 inches of space on either side of the car, the driveway is no narrow. I spent the first 3 minutes trying to squeeze myself in the car. Very funny indeed. But all great things happen with small beginnings with other people laughing their asses off. Once in, I just followed routine. Put the key in, start the car, try all gears till you find the one which makes the car go back, look in the rear view mirror, think how stupid you are, then turn around and look back yourself, release the clutch and pray really really hard. The car moved very gently, then hard, then gently, then stalled. From then for the next about 10 minutes, the car stalled about 20 times but at the end of it all, there was a car which had moved about 10 feet back and 10 feet front and a bike which was ready to roar on the highway. Well done. My first solo driving session – in reverse. I knew I was made for bigger things than national bike tours.
After bathing in glory (and a lot of sweat), the bike loaded to go. I have lived in Kolkata two years and I don't know 80% of the roads here. One and half hours later, I was still finding my way to a place barely 20 minutes away the house. Then the savior came, said ride for 15 kilometers and you will see the bridge. The irony is, 15 Kilometers is pretty much across town in Kolkata distances. I had managed to do it again. I have 500 kilometers to go and it was 11.30 in the morning.
But then, there is a God. Always. He does go on vacations but he is watching and the more you get your ass whooped at his hands, the more considerate he becomes. In my case, he gave me the absolutely flat and awesome National Highway number 5. Smooth as silk and traffic movement super cool. I was cruising at over 100 non stop for hours. The fun never stopped all through the day. By the evening, I was more than satisfied with the day's riding.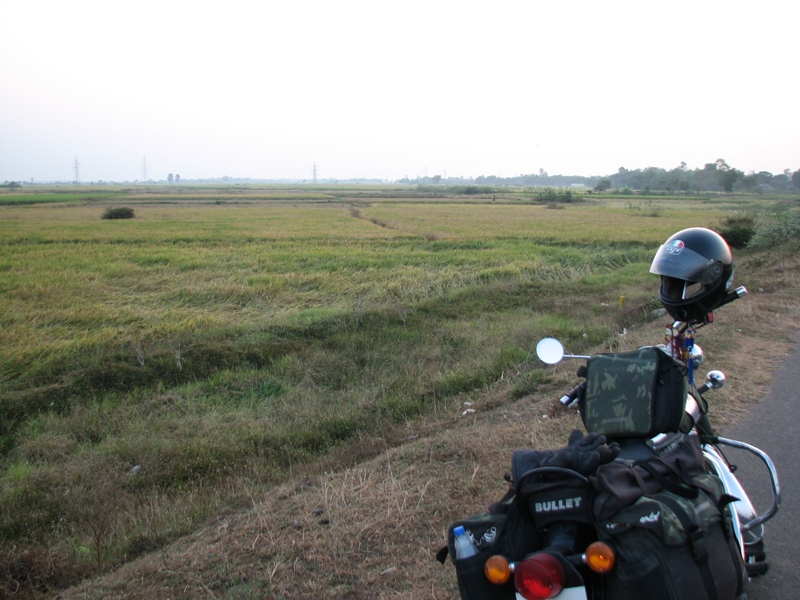 There was something I had noticed though. It seems there was some tuning issue with the carburettor. I had to fill up twice – full tanks – to cover 500 kilometers. This was outrageous. I need to check on that immediately. Plus, the bike was struggling to get to 120 and certainly not going beyond. That was funny. And the kick start. The timing seemed to be off completely and starting the bike was a pain.
By 8 in the night, I had entered Bhubaneshwar. I was off first to meet my friend from childhood, Saurabh (known in our household as Zandu). He was surprised to know I was alone and I was surprised to know that he didn't know. But then whatever. All stories later, off to sleep in a rather shady place with a rather interesting person who has lived in Mumbai 20 years of his life. This was gonna be cool.